Check the video: Custom Lenscrafting
A polarized rose-copper lens with blue mirror, in high-Rx, mid-craft.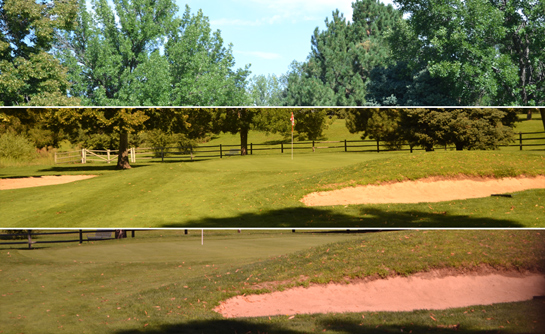 I've just got off the phone with three separate customers asking me about polarized lenses for golf and whether it's the right move. I want to take a quick moment to post about the issue. Basically, there's no wrong answer. Polarized lenses cut a lot of glare and I think they make it much easier on the eyes. Personally, I like the lighter, higher contrast tones of the rose-copper or the brown, but some folks enjoy the perspective through a grey lens. Not everyone has the same level of light sensitivity and there isn't a single lens that works for everyone. You shouldn't feel like there is. One of these guys I just spoke with actually ended up getting yellow-tinted lenses that he plans on using midday. They're going to be bright as heck and I wouldn't want to wear them, but they're not my glasses.
In any case, back to polarization. In my opinion, I'd rather have the glare reduced and not deal with fighting the sheen off the water and grass. If you feel like the polarization is going to prevent you from reading the greens properly, which is the common issue and one that seems to be promoted through internet golf forums, simply take them off when you putt. You don't putt with the same club you use from 200 yards out, you don't have to use the same glasses when you putt, either, right?